Survivor.io is an exciting new RPG-style mobile game where you battle against thousands of zombies threatening the city. It's easy to play with one-hand controls and offers a variety of skills to use.
Your mission is to save the town from these dangerous monsters. You'll need to complete different chapters, each getting harder and featuring unique types of enemies and challenging bosses.
To help you start the game like a pro, we've put together this beginner's guide to Survivor.io. It contains all the strategies, tips, and tricks you need to succeed and progress quickly!
Survivor.io Wiki: Helpful Hints and Techniques
Table of Contents
The Basics of Game Mechanics
You will need to gather or purchase a variety of equipment as you go through the game so that you can survive longer and destroy enemies more effectively.
Make sure you always have enough energy, gold, and gems to improve your gear or your character by keeping a careful eye on your inventory.
Here are some additional details about the three most important items you require in the game:
Gold: This currency is used for improving your equipment and character. You can get it by completing chapters, opening chapter chests, and accessing free deals after watching quick ad clips.
Energy: You will use up a set quantity of energy each time you begin a new battle. You won't be able to fight until your energy is restored, which happens slowly and naturally over time. Also, you may use gems to purchase energy or get energy as a gift from friends
Gems: Gems are more of a luxury coin that you don't obtain very often. Gems can be purchased in the store, earned through finishing chapters or obtained by taking part in special events. These may be used to unlock equipment boxes or purchase gold from the in-game store.
Personalize your game's profile.
OnSurvivor.io, personalizing your profile might offer some creativity and fun. Additionally, it includes more difficult activities that might increase your enjoyment of the game, such as unlocking additional avatars or avatar frames.
By changing the default name, which is free the first time you do it, you may also personalize your in-game profile.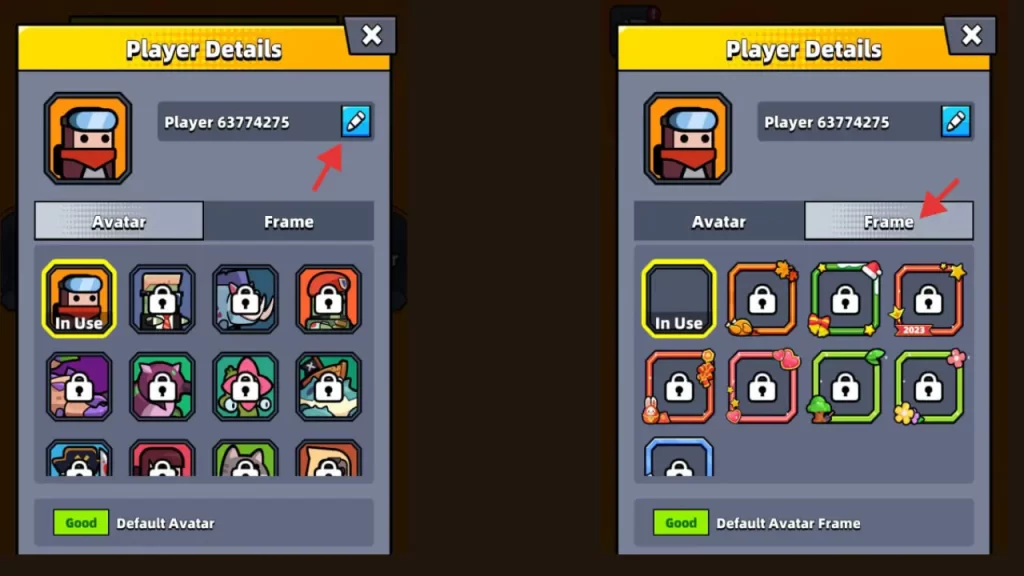 Having a generic, random name like "player-0983yy47" is not something you might want, especially if you want to share your progress with others, but you are free to maintain the default name if you'd like.
You might be able to create more friends with the "My Friends" function if you have a customized profile.
Select the most useful skills
Selecting the greatest Survival.io Skills for your character is another approach to being successful in completing chapters. You've probably noticed that every kill enemy drops a crystal.
The XP bar will fill up more quickly the more crystals you gather in a shorter amount of time. Once it's full, your XP level for that battle increases, giving you the option to select one of the three skills.
These abilities will most likely determine whether you live or die, so be sure to read their descriptions carefully and choose the ones that best fit your needs and playing style.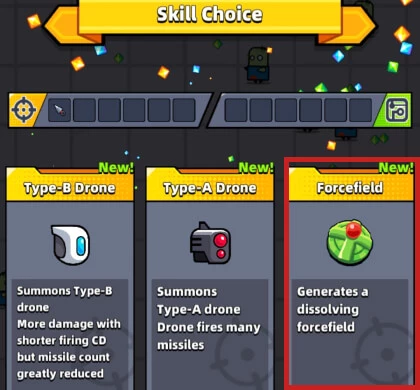 They may provide your character with extra attack strength or health, other weaponry like drones, lasers, and rockets, protective shields, or skills that will enable you to win the battle with more gold and better rewards.
You can develop and develop some of the greatest Survivor.io weapons and armor with the help of certain skills, making you an unbeatable force.
The drones, like Type-A and Type-B drones, as well as abilities similar to Forcefield, which can create a barrier around you and destroy any enemies that come into contact with them, are the skills that we found to be the most effective.
If you see them, don't be hesitant to choose them as much as you can to expand their range and strengthen their attacks.
Utilize the dropped items strategically
You will come across a variety of objects during the battle that you may utilize to improve your chances of winning.
While some resources, such as gold and crystals, should always be collected, other resources, such as magnets, black smiley mines, and even pieces of meat, should be utilized wisely.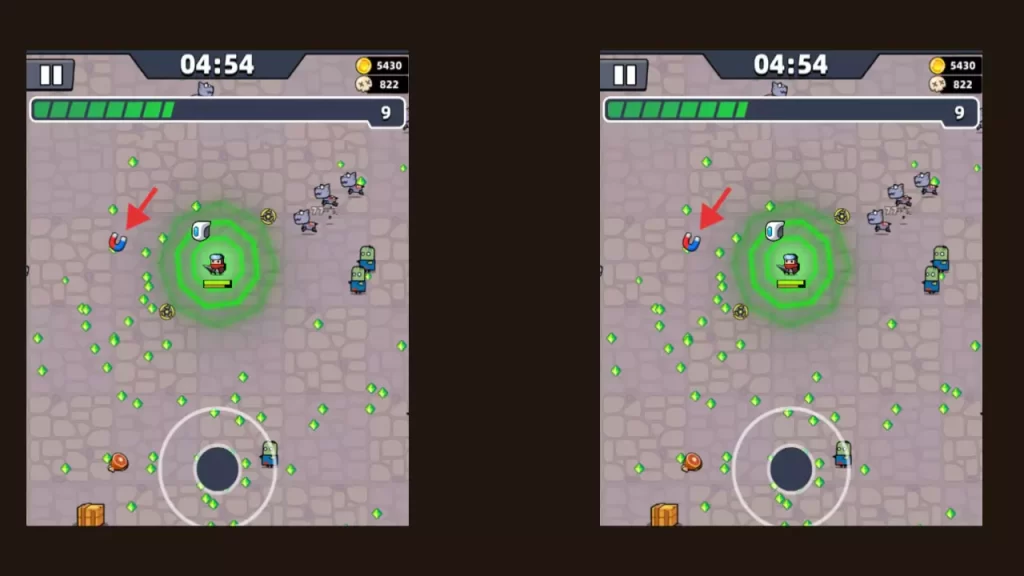 For instance, the magnets are more effective if you've killed enough zombies and collected enough crystals to surround you.
By doing this, you'll be able to collect all of the scattered crystals right away and gain lots of experience points, which will cause additional skill pop-ups.
The smiling mines need to be utilized similarly against big enemy groups, ideally during a zombie alert. This will enable you to eliminate the entire group with a single action.
Try the co-op mode by inviting at least 10 people.
Although the Play Store description of Survivor.io describes it as a single-player game, this is not entirely accurate. We can team up with a friend and battle together thanks to a new co-op option that was just introduced.
Under the Trials tab, you'll find the Local Co-op mode. You and your friend need to finish the second chapter in order to access it. Additionally, your friend must be using the same Wi-Fi network and have the same game installed.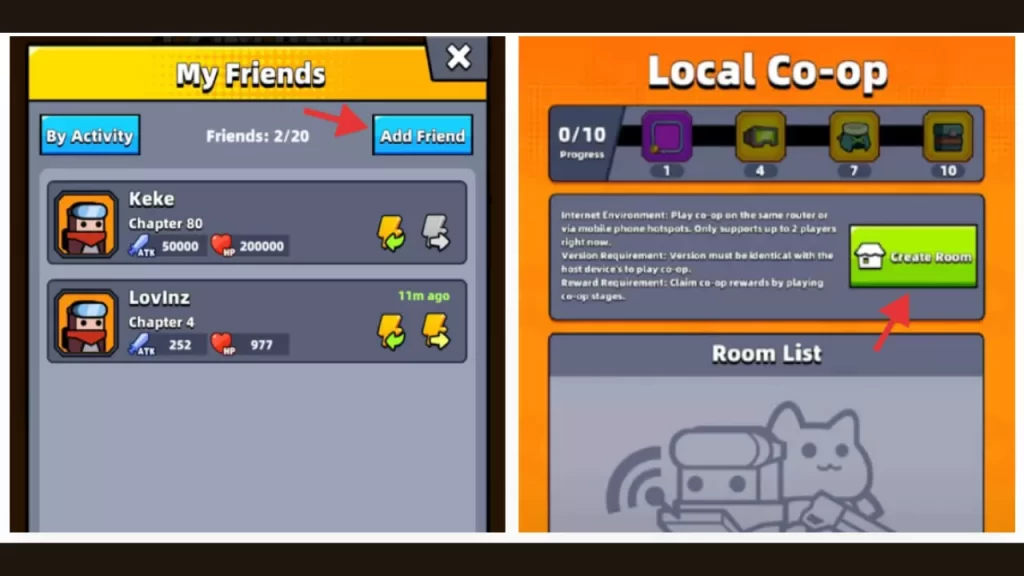 After finishing the first chapter, another feature named "My Friends" becomes visible. You can use this to include up to 20 friends on your list.
This feature lets you receive and give up to 10 energy gifts each day; however, you can't play with them in multiplayer mode. If you want to keep playing but are out of energy, this might be really useful.
keep you updated at all times
Survivor.io frequently releases fresh updates, new material, and occasionally even free rewards. As a result, it's important to remain up to date on any game-related updates and developments.
The Announcements page, which may be found under the same menu as the Settings page, is one place to start. You may also want to follow Survival.io on social media because they frequently host brand-new challenges and special events.
So, Please visit every week this Survivor.io Guide or Survivor.io Wiki to check any new updates.
Survivor.io Guide and Wiki FAQ
What does evo mean in survivor.io
Survivor.io's EVO button stands for evolution. It describes the capability of upgrading a skill or weapon to its strongest state. EVO has strongly more advanced abilities and weaponry.
What is the best weapon in survivor.io
The top tool in Survivor.io is a matter of preference, but the Void Power is usually considered the game's most deadly weapon. It can fire black holes that suffocate enemies and has a high base attack damage. The Void Power is a particularly efficient weapon against armies of enemies since the black holes also harm nearby enemies.
How to clear chapter 1 in survivor.io
You have to survive for 15 minutes in Survivor.io Chapter 1 and battle the Devourer as the chapter's last boss in order to complete it.